COVID Mitigation and guidelines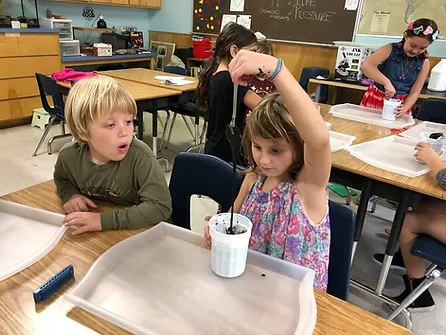 We believe our children need real, in-person play, socialization, and hands-on learning now more than ever! We are a completely optional program and are excited to offer this space to all interested.
UPDATED: 12/15/2022​
Masks are optional and most participants and team chose not to wear them.
A lot of our program is outside and in active play.
Our rooms are large and well-ventilated and Thrivers come and go between indoor and outdoor spaces often.
We clean and sanitize high-touch areas often.
We encourage parents to keep sick kids home and to follow the guidelines for staying home below.
We cannot guarantee your child will not contract or be in contact with COVID at Thrive.
We never ask for vaccination records.
Our team has equal rights and personal responsibilities to make their own choices regarding masks and vaccinations.
​Our goal is to remain open and keep personal freedoms.
Our promise to you is full transparency so you can continue to make the choices that are right for your family.​
We must be in a place of trust between ourselves and our families.
We ask that anyone with a positive test and/or active symptoms stay home. This includes our team adults.
We no longer share when exposure occurs on-site as it does not affect attendance.
Guidelines for staying home: If a positive test or covid symptoms please stay home while there is active symptoms. Guidelines for staying home in other instances include being 24 hours fever-free and completely lice and nit free.
We do not plan to close if community cases rise and/or if schools make the choice to close.
We do not plan to close or quarantine entire groups of participants for exposure.
Guidelines for possible short term closure: We do not expect this. If Butte County Public Health and/or Enloe Medical Center requires or highly recommends it due to a sustained outbreak at Thrive OR if we are low staff due to illness and staying home guidelines. If we are to close it would be for the minimum time needed.
We are unable to offer refunds either due to your need to stay home or closure due to the above unforeseen circumstances. This ensures our budget will be covered to keep our doors open for the future.
Possible longer closure: We do not expect this. We would close if Enloe is overrun and lacks the ability to care for patients and they are asking programs with groups of children to close or if forced by a state or city entity. In that case we would not be able to refund for the current month and/or 15 days from date of closure but would refund or not bill on future months after the 15th day.