Tutoring and Homework Help 2022-23
1st- 12th grades,
Small Group (1 tutor with 4 kids)
or One on One tutoring
Reading, Writing, Math
Send them with work or we will provide work at their level.
Led by experienced tutors.​
-------
Regularly scheduled time for them to get help with their work or be tutored at their level.
Prices are monthly. No prorates for missed sessions unless you give us a 15 day notice.
Must give a 15 day notice if you don't plan to continue all year.
Please inquire for availability.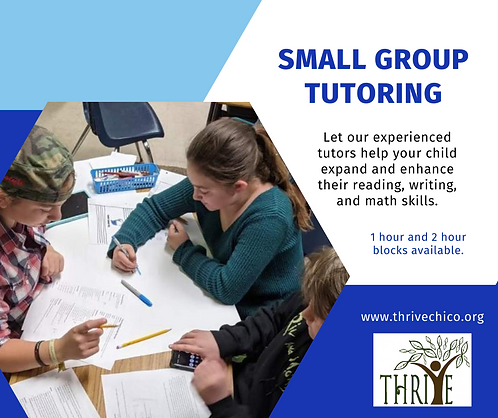 2022-23 Schedule
* Choose M,T,W,Th 1:30 to 2:30, 2:30 to 3:30, or 3:30 to 4:30
Tutoring sessions are for 1 hour
*subject to availability
May sign up for multiple as desired.
​Need a Different Schedule? Contact Us to Inquire.
ThriveChico@live.com
530-809-4638
Small group: $120 per month for one hour long session per week
One-to-One: $200 per month for one hour long session per week
$20 holds your space. The rest may be paid with charter funds if desired.